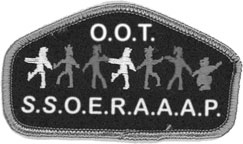 ORDER OF THE SCIENCE SCOUTS OF EXEMPLARY REPUTE AND ABOVE AVERAGE PHYSIQUE



The "talking science" badge.
Required for all members. Assumes the recipient conducts himself/herself in such a manner as to talk science whenever he/she gets the chance. Not easily fazed by looks of disinterest from friends or the act of "zoning out" by well intentioned loved ones.



The "I blog about science" badge.
In which the recipient maintains a blog where at least a quarter of the material is about science. Suffice to say, this does not include scientology.



The "arts and crafts" badge.
Because you can't have a bunch of badges without an arts and crafts badge. This one assumes the recipient has all manner of "craftiness" with a sciencegeek twist.



The "I bet I know more computer languages than you, and I'm not afraid to talk about it" badge.
It could get ugly when two or more of these recipients get together.